About
Spirits at Prairie Creek Park is a geolocative game that you can play at Prairie Creek Park. Players explore the park and use different senses to detect hidden spirits.
We recommend the game to played with a group of people, particularly a family! Each group only needs one mobile device to play.
Already at Prairie Creek Park? Play now!
Flame Llama Studio
We are an interdisciplinary team of eleven students and one faculty mentor representing Computer Science, Animation, Telecommunications, and Philosophy. We are working with Camp Prairie Creek, a free summer camp run by the Muncie Sanitary District, to create a game that encourages themes of environmentalism, water quality, and outdoorsmanship.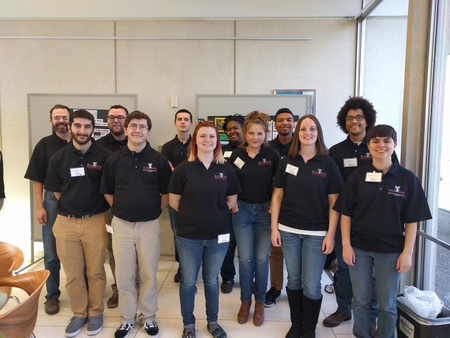 Zachary Bube
Garrett Evers
Catherine Galbraith
Paul Gestwicki
Jordan Lewers
Dakota Malchow
Dylon Price
Kate Rader
Kaley Rittichier
Darby Siscoe
Lauren Taylor
David Wisenberg
Source Code
This is free software licensed under GPLv3, and the source code is available on GitHub.
Acknowledgements
Special thanks to:
If you are interested in the code for the project, feel free to check it out here!